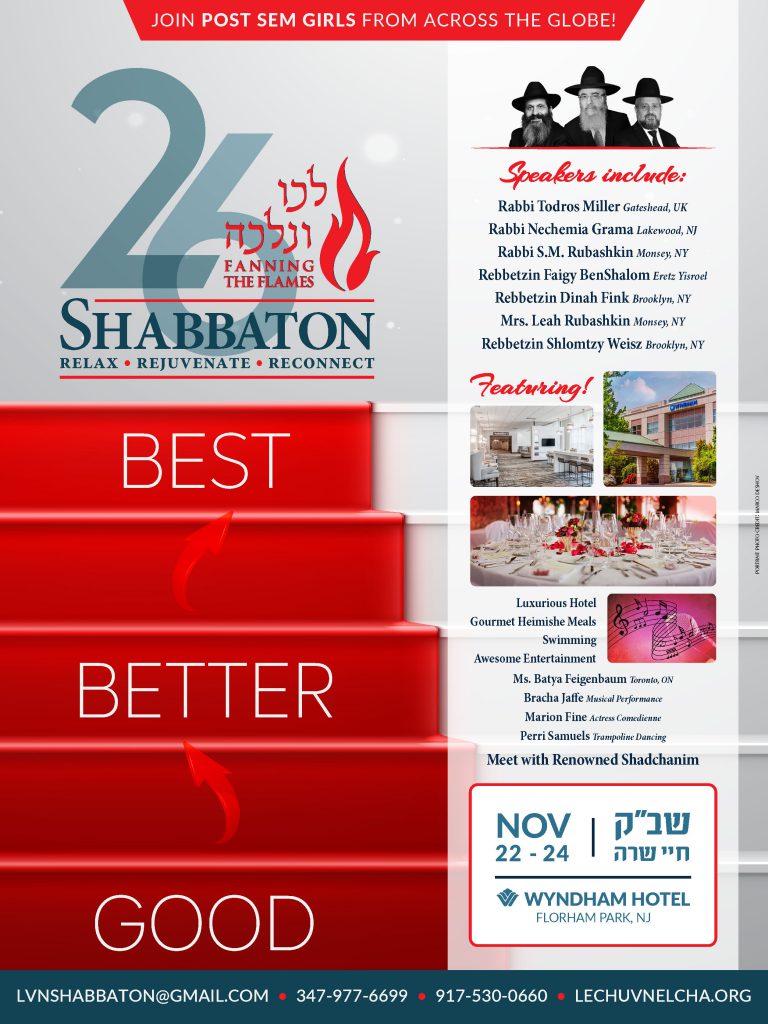 Some of our Shabbaton participants share:
A Lechu V'Nelcha Shabbaton is something completely out of this world!!! From the minute you arrive, all throughout Shabbos, and until way longer after you leave, you're enveloped in a special cloud of something INCREDIBLE!!! There really is no way to describe it, unless experienced. The shiurim, speakers, friendships, accommodations…even the food, hotel…everything about it- the camaraderie is so so so WONDERFUL!!!
There was no better way to end it with Marion Fine's hysterical humor, the dancing, and super fun cooking show on Sunday. Not to mention Bracha Jaffe's kumzitz…it was so REAL- creating song into tefillah! Rabbi Miller's profound and keen insight left me open-mouthed as he pulled all the threads together at the end. Just so unbeleivable! Ms. Batya Feigenbaum is one AMAZING person walking the face of this Earth.  Mrs.Tzirel Rubinstein shared some practical eye opening shidduch advice. And there's no way not to get deeply affected by Mrs. Ben Shalom's contagious heartening love for Torah! My entire appreciation and perspective has changed! Rabbi & Mrs. Rubashkin's unwavering bitachon taught that no matter what, Hashem is there. Aleph and Bais ( Emunah & Bitachon) pulled them through, knowing Gimmel (Geulah) will follow. For 8.5 years, there was no freedom; all she knew was that Aleph, Bais, then going back to Aleph=spells ABA! Her father is in charge! So so inspiring! Each speaker was so on target and insightful. Rabbi Gramma, Mrs. Miller, Rebbetzin Shlomtzy Weiss with her witty brilliance…it was just out of this world indeed!
All I can say is that I LIVE OFF IT, always looking forward to the next LVN Shabbaton! Thank you, and I will Iy"h try to DO thank you!
May Hashem give you all the koach to continue doing this for Klal Yisrael!
F.B.
I had the most amazing Shabbos ever!!!!!!!!!!!!!!!!!!!
I am in a daze of inspiration!
Every single part of it was astounding!!!
Thank you! Thank you!!
F.S.
I just want to try to express my appreciation for the most beautiful, amazing Shabbaton ever!!!! I am on such a high! You could not have done a better job.  The program and the speeches along with the stunning accommodations was unbelievable!  I am so uplifted and inspired.  I dont know what I would do without such an organization.   No thank you will ever suffice! But thank you anyways!!!!!
N.C.
Amazing Shabbaton.  The quality of the girls was baruch Hashem over the top. What a zechus to have been able to be part of it. Speakers – enlightening. What ruach!  It transported me back to my camp days.  By the way, I have been to many events- your staff organizational skills are extraordinary! Wishing all of you much hatzlochah! Regards
C.R.
Lichvod Rebbetzin Fink,
I don't know where to begin..?! The Shabbaton was truly a gift of a lifetime, money well spent… I can't begin to imagine the koichos that went into it, the effort, the time…everything…I gained so much from all the shiurim, from the meals spent with all different ehrliche and emesdigegirls yearning to grow. The conversations at the seudos were all so toichendig and we all felt that the group was just unique! The kumzitzwas beautiful and so full of meaning! Thank you for all the amazing speakers that were brought in for it! Thank you for introducing me to Rabbi Milller-truly a zechus! The workshops were so practical and so relevant to our lives! I told my mother that when I left the Hilton I felt like I was leaving the airport back from seminary! We were in a bubble that I hope will never pop… baruch Hashem for Lechu V'Nelcha and it's truly an honor for me to have a small part in it!
Thank you so much again! Tizki l'mitzvos! May Hakadosh Baruch Hu give you a lot of koach to be able to continue going strong in your avodos hakodesh of lighting up the spiritual world of others!
Looking forward to having you speak for our branch very soon in Yerushalayim!
Y.T.
Oh! I have literally NO WORDS to describe how nice the Shabbaton was and how much we loved it!! Enjoyed is a HUGE understatement!!
Every single part was so amazing! Every detail planned to perfection!!
From the timings of the speeches and entertainment, to the menu for each meal, the welcome packs, the gift, the technical parts to make it Shabbos friendly, the rooms and tables, the zemiros and dancing……
It was truly a masterpiece, worth all that money!!!
We cant wait to keep up the inspiration with the weekly shiur!!
Y.U.
As much as I tried to express my profound gratitude on the little thank you notes, I know that it is far from enough… Again and again thank you! The profound words of Rabbi Miller; to be a holech, how to bring up food to a ruchniyus level, how to take things along in real life, in those plain mar Cheshvon days… is just so practical and deep and intellectual too! And the powerful message of Rabbi Rubashkin and the take along workshop by Rabbi Grama.. I can't end, for I feel like I haven't started….. Thanks again for the myriad of details which i dont know how to thank you for. May Hashem repay with brochois ad bli dei, and shower you with hashpaas tovos, nachas and simcha and may we be zoche to the ultimate redemption, speedily in our days…
R.W.
As the columnist of the shidduch GPS in the widely popular Inyan Magazine, I was invited this past Shabbos by the indefatigable Rebbetzin Dinah Fink to participate and present at the Lechu V'Nelcha Shabbos which took place at the Wyndham Hotel in Florham Park, New Jersey.  One can be blown away with pride at the sight of 305 choshuva Bnos Yisrael yearning to connect and grow in Yiddishkeit while having tons of fun and entertainment.  The atmosphere was elegant, not a detail missing, and the ruach palpable.
Kol Hakavod to Rebbetzin Fink for launching the outstanding organization of Lechu V'Nelcha providing an outlet for continued growth and friendships for post seminary girls all over the world.
(I married off 4 of my 6 sons.  Number 5 is about to start.  Hashem gifted me.  The'yre all major bnei Torah, Rabbonim…Dayanim.  I always asked the sem mechanchos, "is her Yiddishkeit meaningful to her?" The girls who attend LVN  are attending because their Yiddishkeit is meaningful to them.)
T.R.
Walking through the door
Of Wyndham Florham Park
Suitcases in hand
Air alive with spark
Right away we're greeted
With a heartfelt embrace
Your motherly care
A smile radiating your face
Lechu N'Nelcha logos posted everywhere
We noticed all the details
In this magical atmosphere
When Shabbos arrived we all gathered here
The tangible kedushah permeating the air
We were transported to a different plane
Me-ein olam habah
No other way to explain
The zemiros and singing you lead with a bren
Our pintele yid ignited within
Each speaker chosen with precision
To challenge our minds and broaden our vision
With ruach and spirit we all had a ball
And friendships were cultivated above all
You put in your heart and soul
How can we possibly repay
Ein anachnu maspikim
Is all we could say
Rebbetzin Fink you did it again
This Shabbos was magnigicent hodu l'Hashem
Thank you Hashem for the goodness you do
Together let's join in aleinu…
B.G.
Dear Rebbetzin Fink
I have no words so I wont thank
But if I dont I will faint
I want to say just how beautful Shabbos was
Like it always is
Where every girl can connect and grow
And have what to show
From food (never saw so much food in my life!) to speakers
To girls to activities and worskhops
A hit it was
Hours and hours was well worth it
So thank you for putting it all in
Months we wait for it in advance
So you can know it was for good reason
Thank you for an unnecessary mention of my name and the gift
Its a pleasure to be a part of the LVN family
The inspiration was another level
Rubashkin spoke to home for me
And Marion was as funny as can be
Trampoline dancing was so fun
And the choir was gorgeous too!!
It reminded me when I was young
I learned the song in 7th grade
Never heard or sang it again
I was able to sing along every word
May you continue doing this beautful work
And may you be strong to continue with the energy that you always have!
Thanks again!
Sincerely, with love
S.M.